Physically interactive film at the Venice Biennale of Architecture
Bill Pechet and Stephanie Robb's Sweaterlodge represented Canada at the Venice Biennale of Architecture. Global Mechanic collaborated with Pechet and Robb to create an atmospheric visual feast of film and animation. Projected by viewers pedaling stationary bicycles linked to computers, the video images and their sound tracks could be played back and forth, fast and slow, like scratching.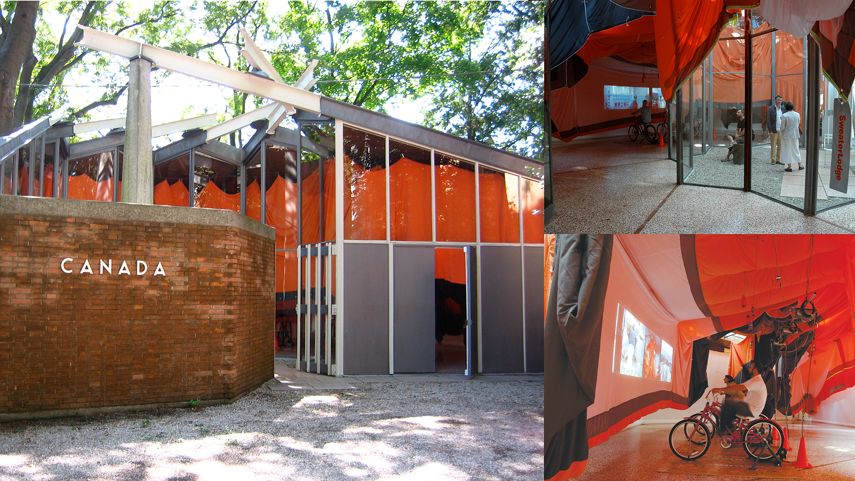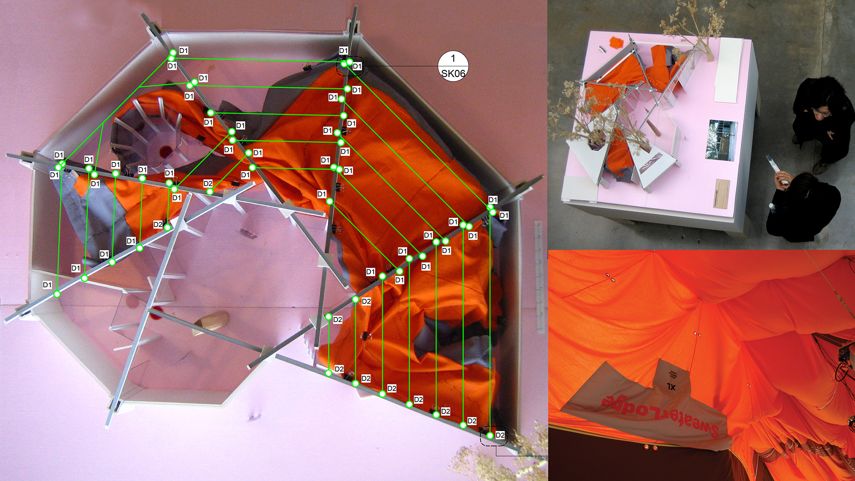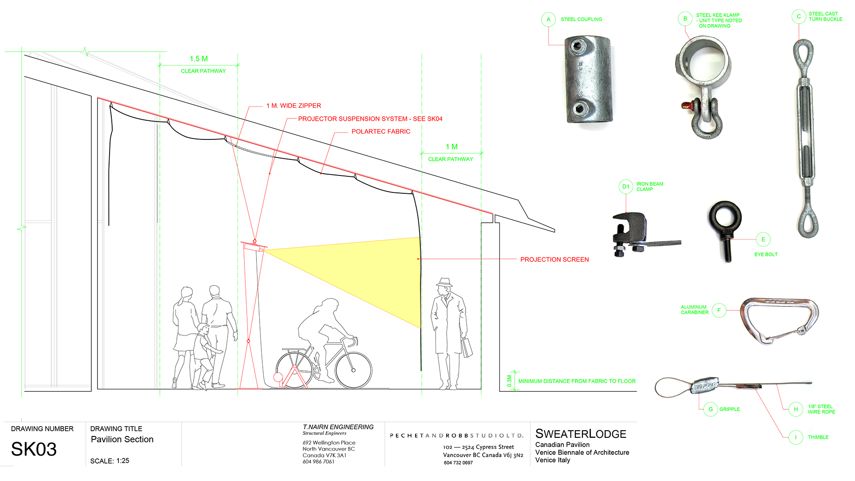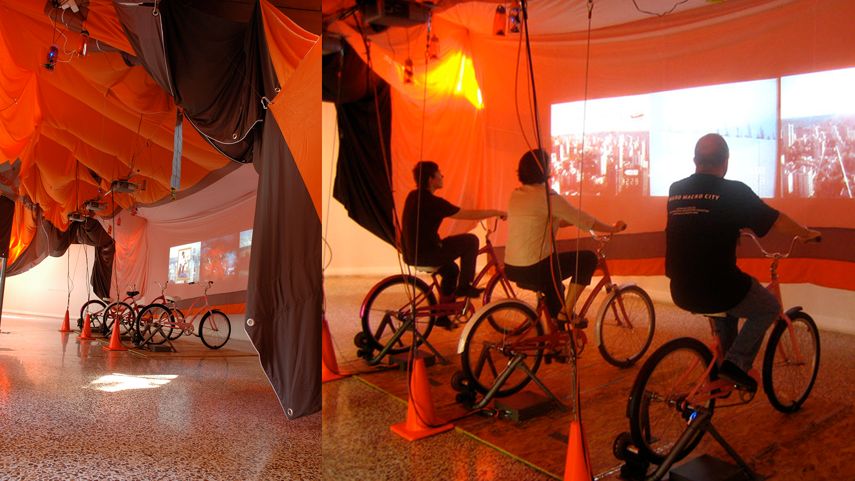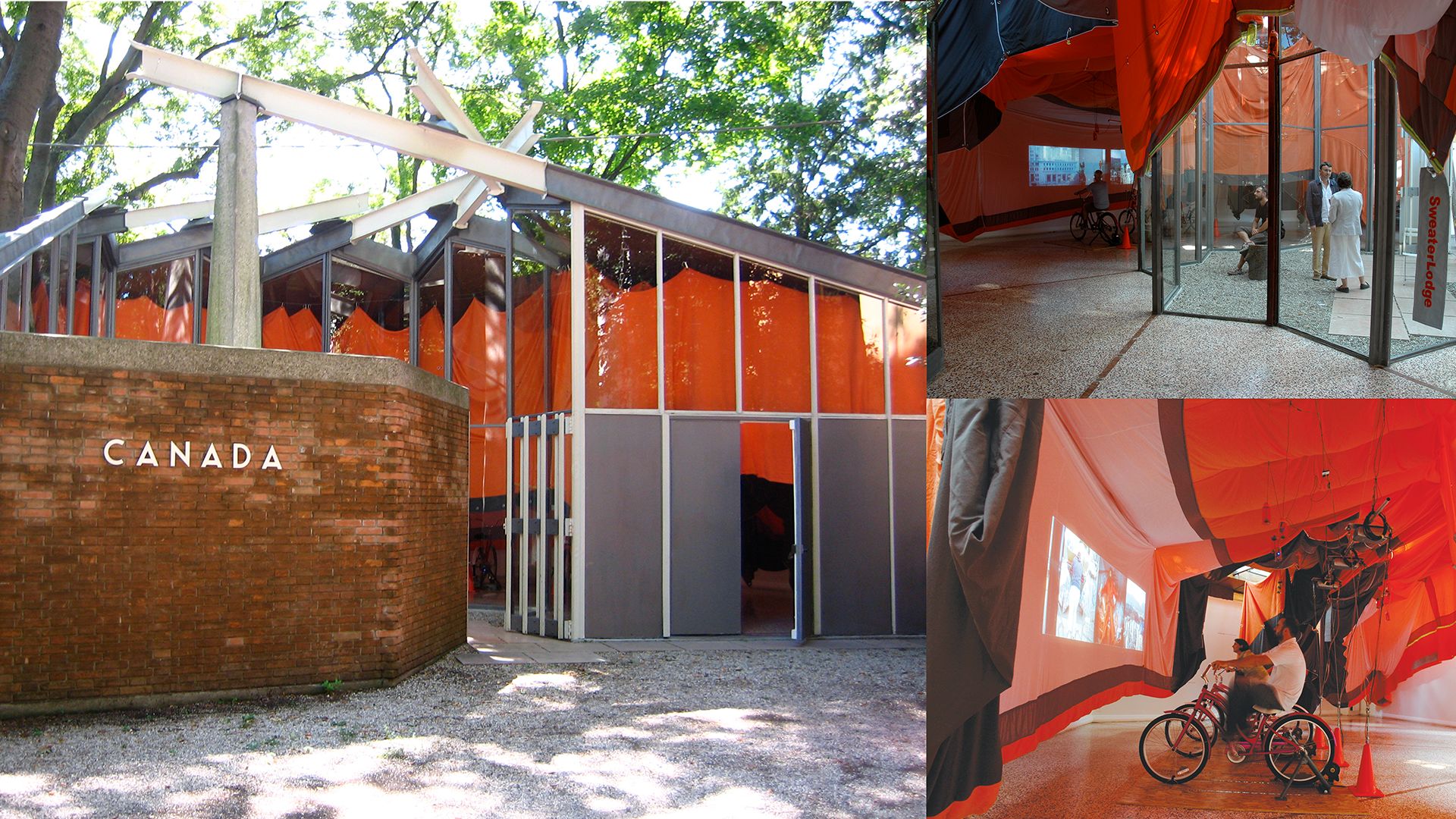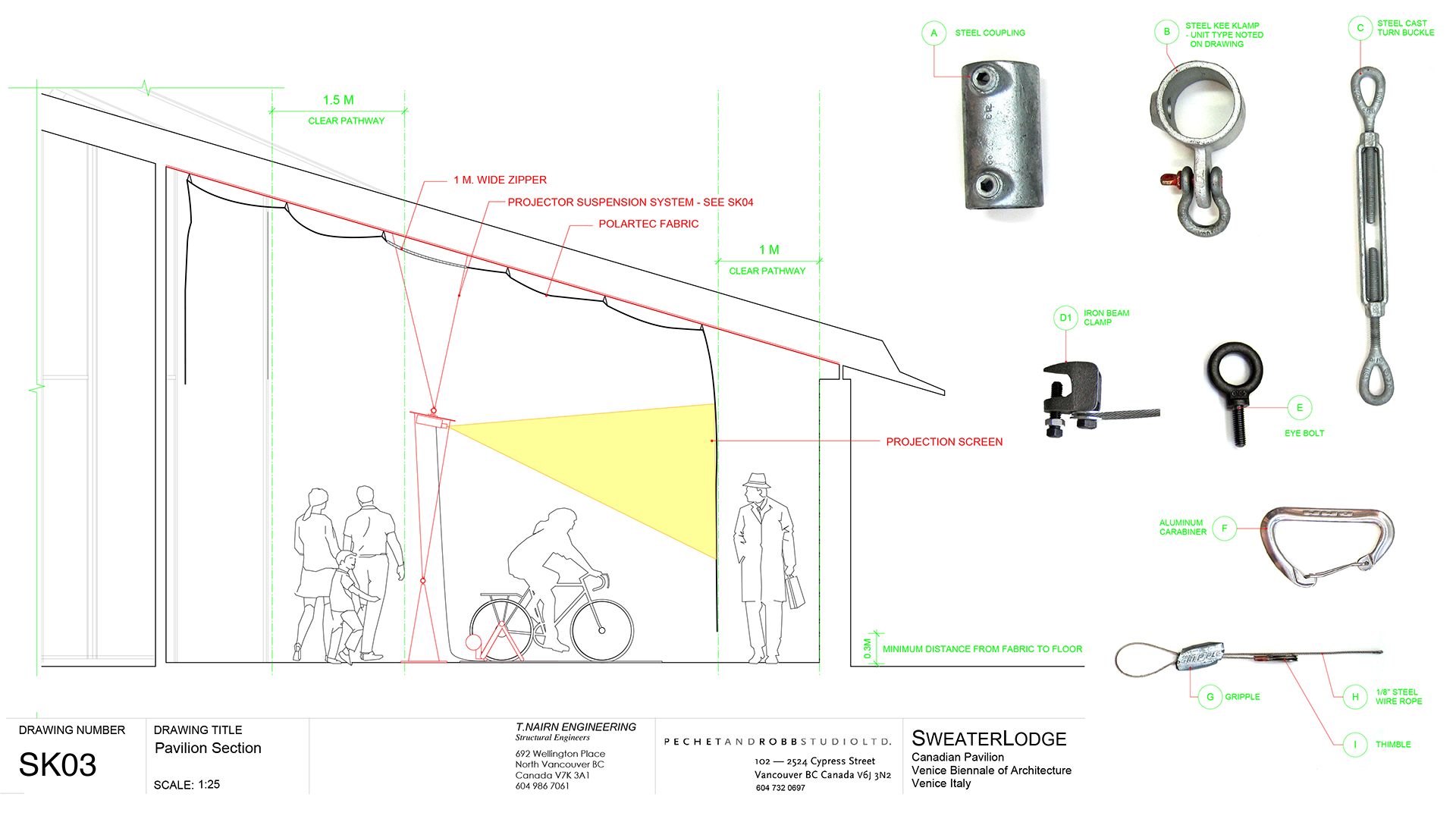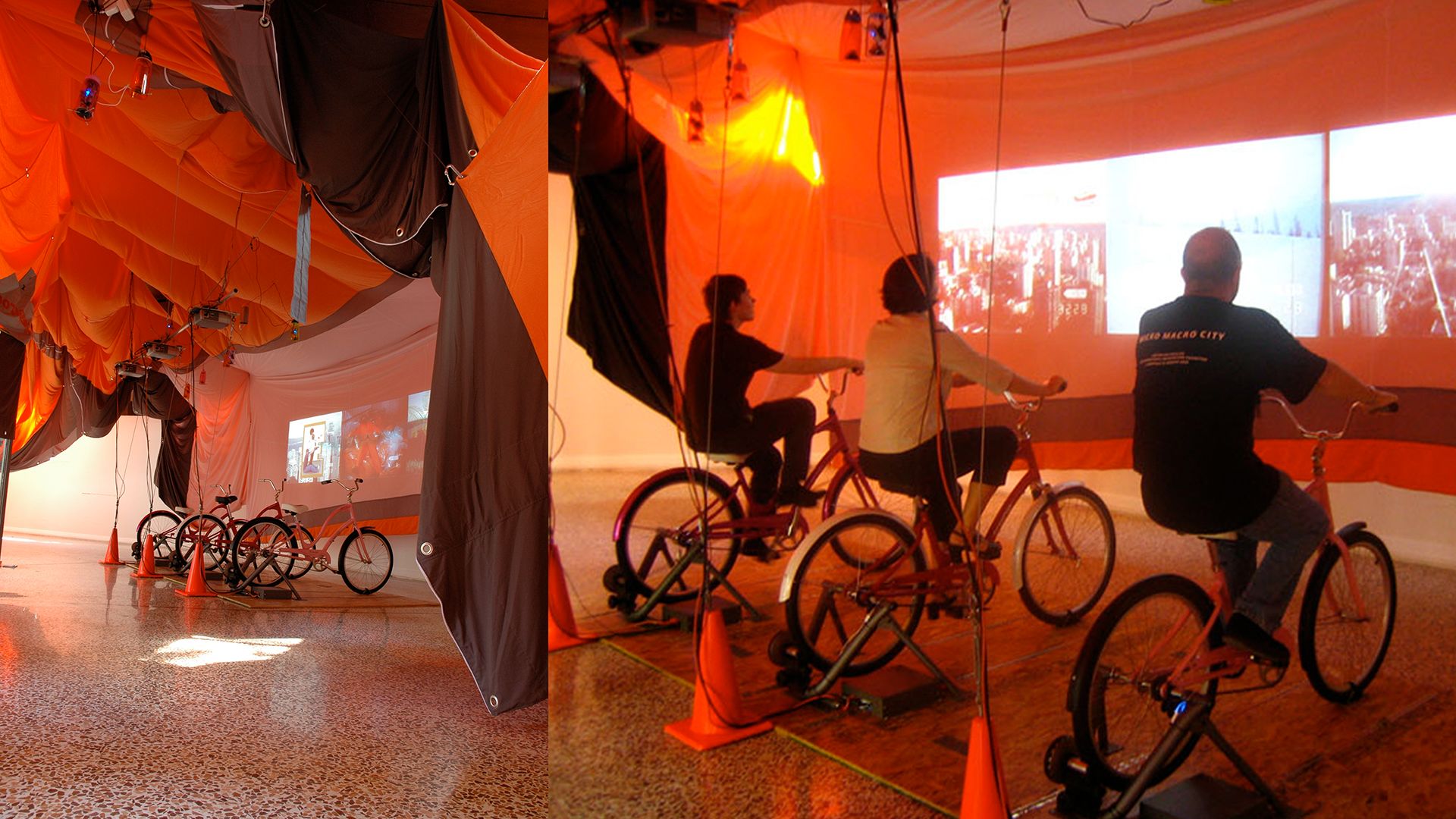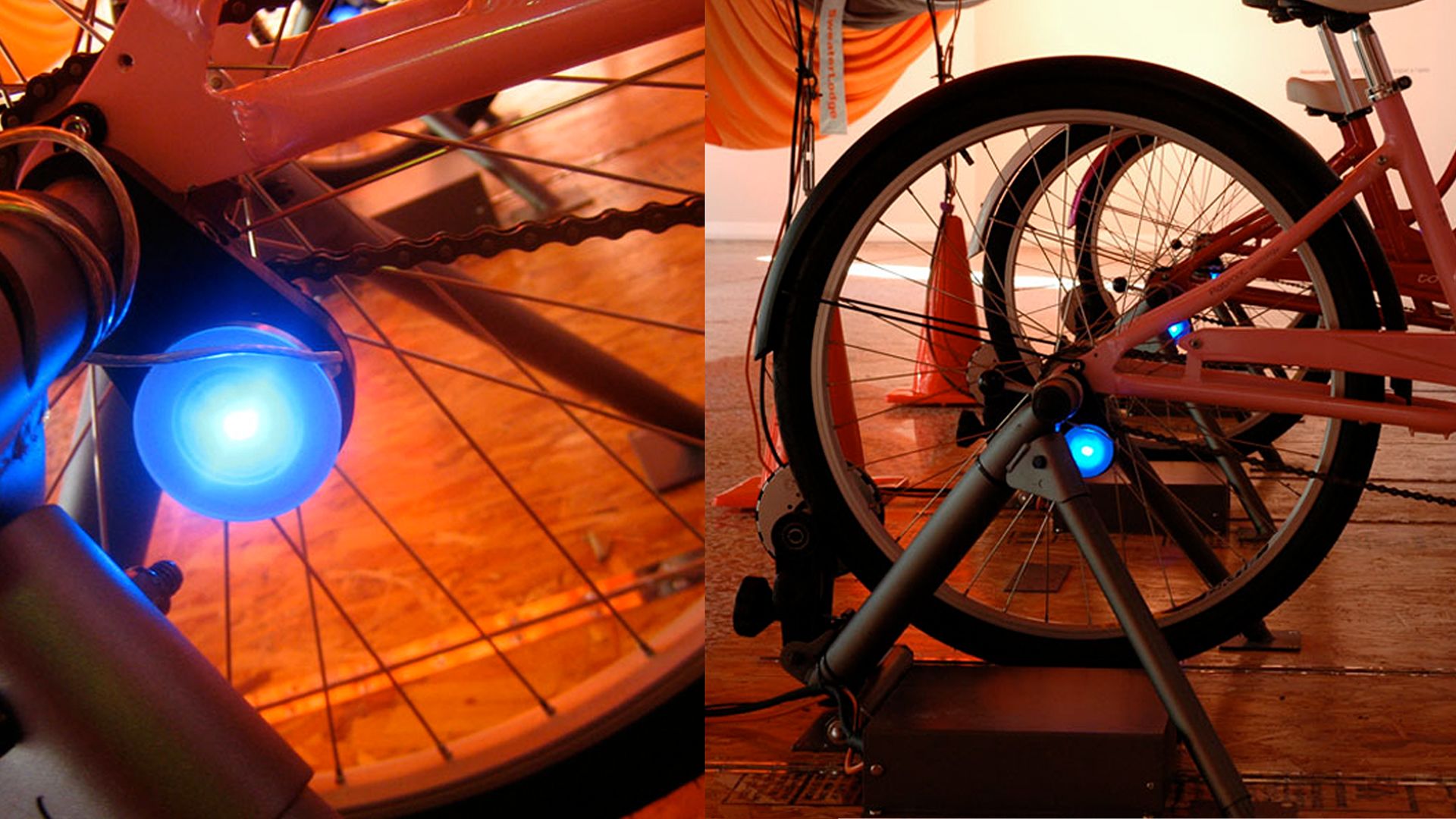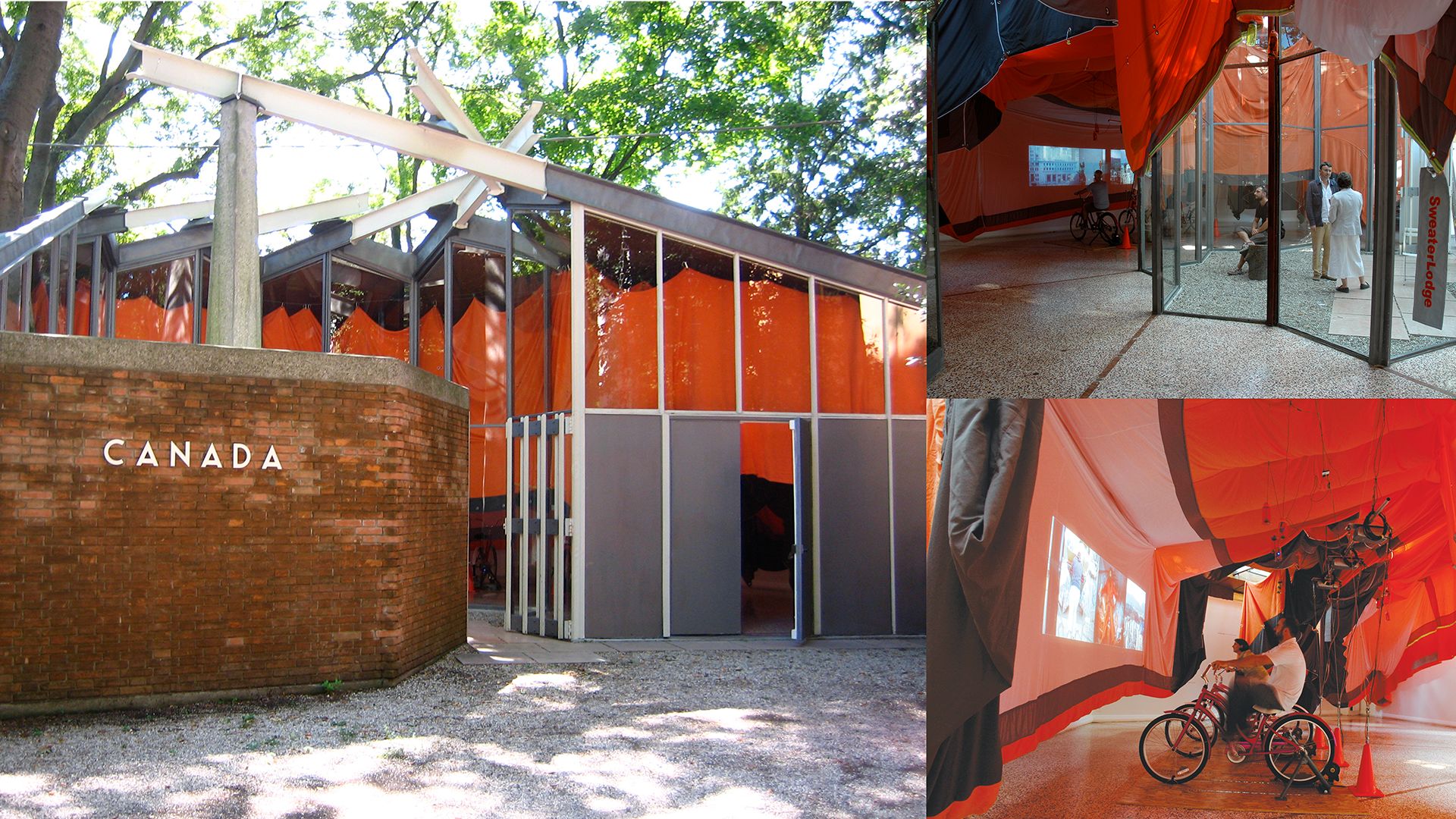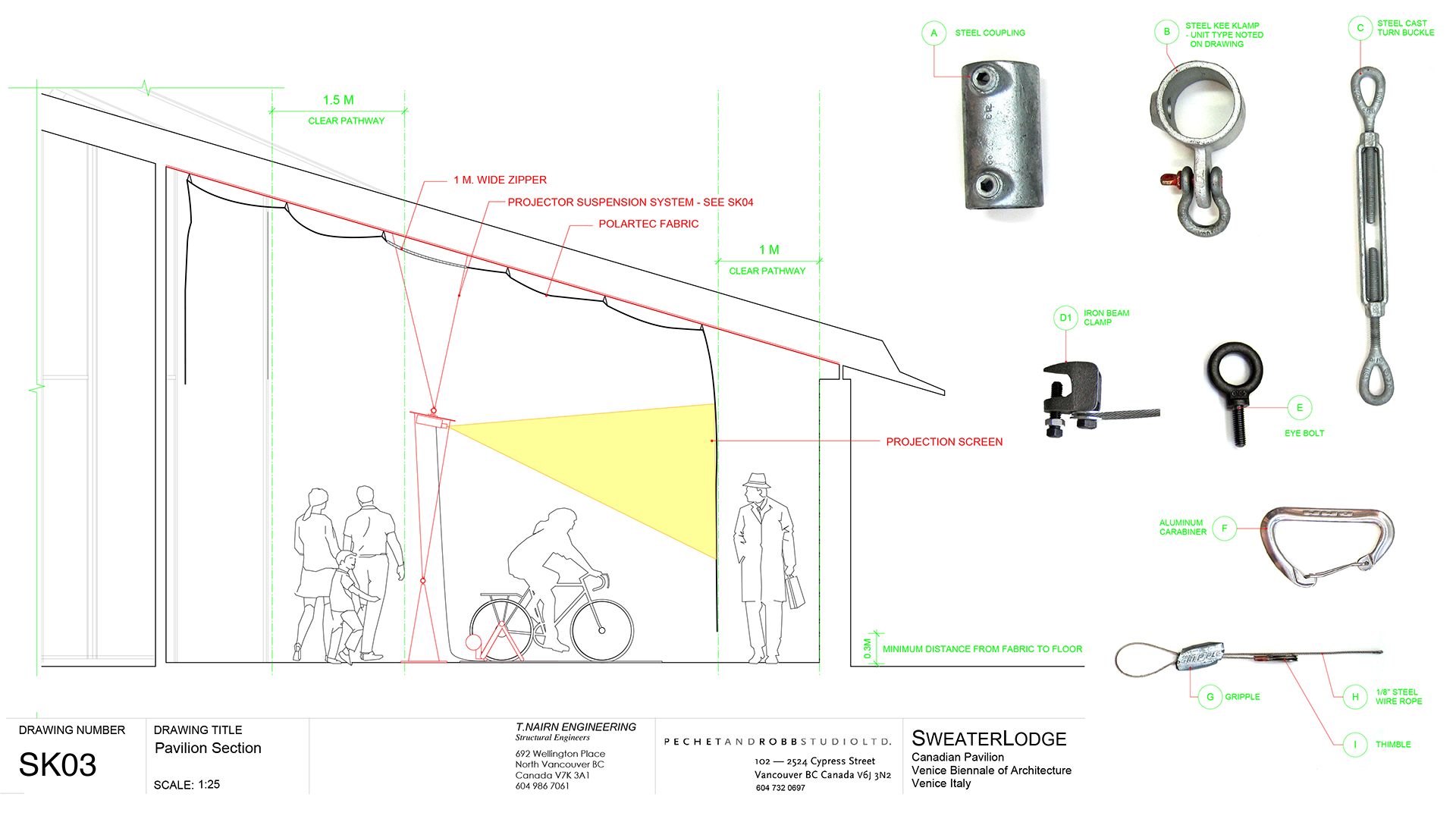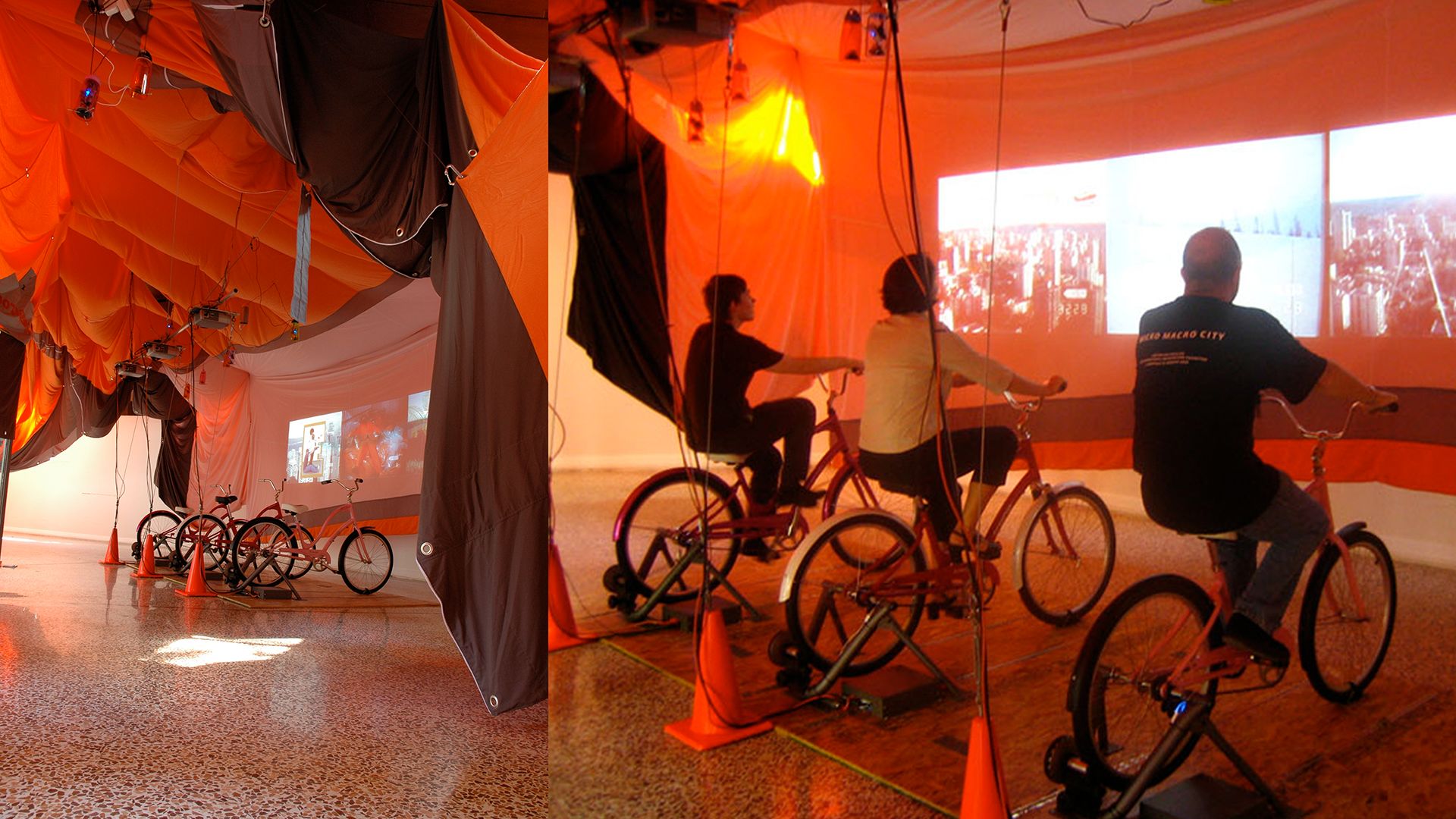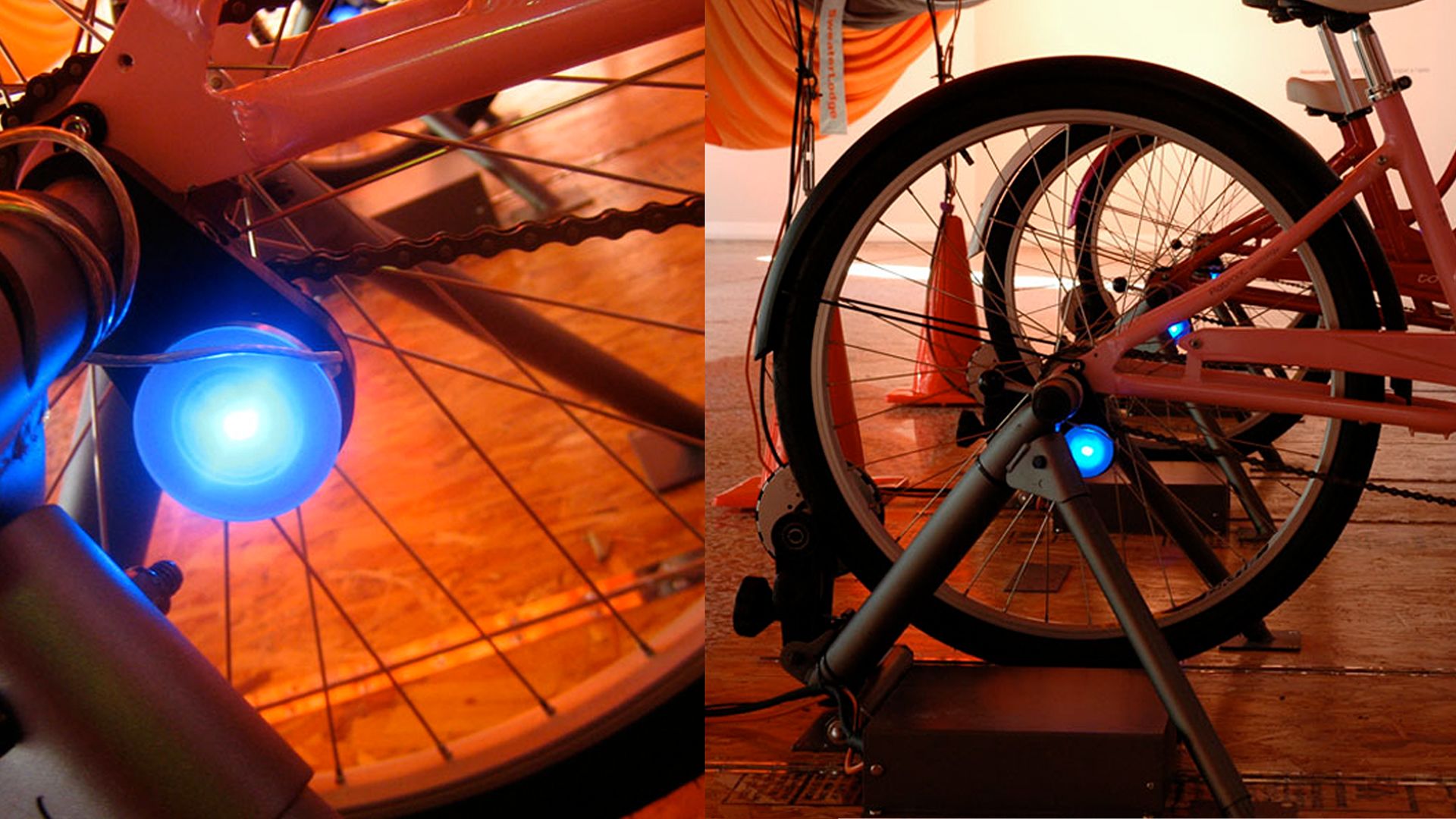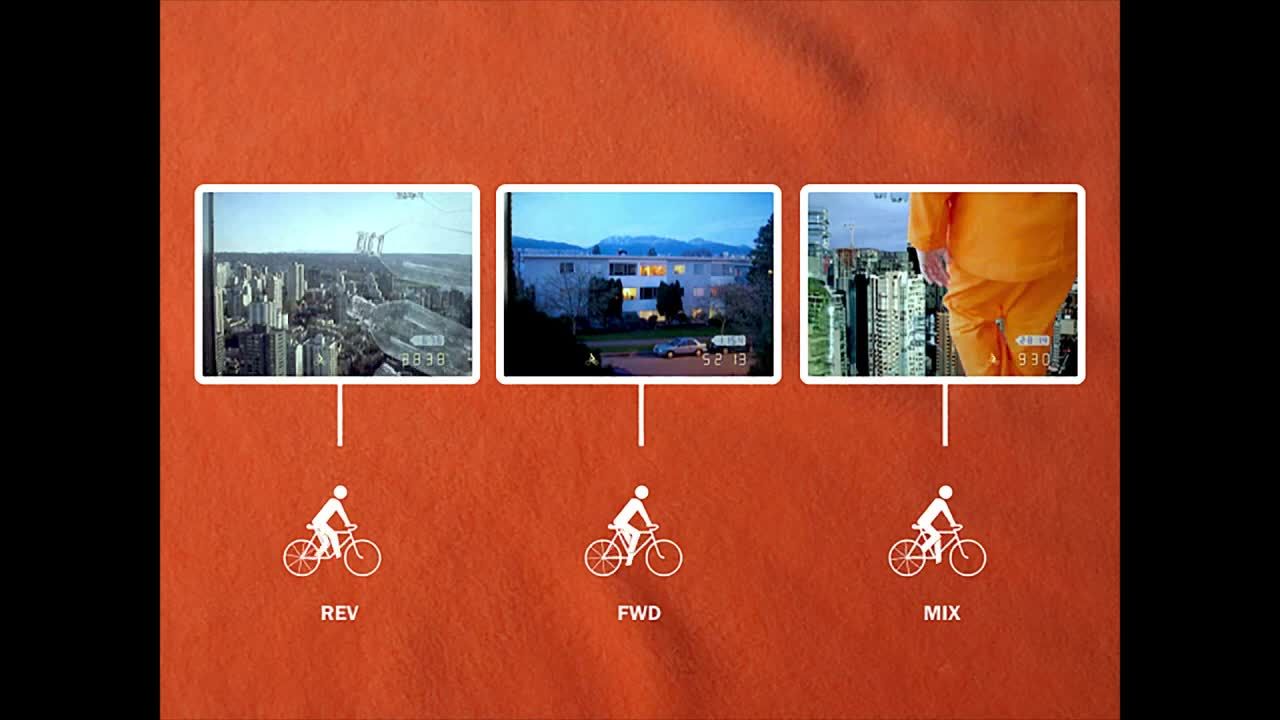 SweaterLodge Demo
Venice Biennale
Imagine an enormous sweater, 20 times human size. Imagine that the sweater is made of brilliant orange polar fleece.

Imagine, too, that it is hung in a 12-metre semi-circular span within the Canadian Pavilion in the Giardino de Castello, Venice. Visitors walk into the installation and through it, embraced by its fabric, design, and colour. "When the light comes through the orange material, it feels like you're inside an ember," says Bill Pechet. It also feels like you're enfolded within a witty and ironic notion of Canadian identity-of Vancouverite identity, in particular.
Pechet and Stephanie Robb are the creators of SweaterLodge, the project chosen by a Canada Council for the Arts jury to be this country's official entry at the 2006 Venice Biennale in Architecture.
Humour and whimsy abound in SweaterLodge, as do more serious themes, relating to our sense of place and the ways we define ourselves through it. Pechet names our close proximity, as Vancouverites, to wild nature and our connections with leisure culture, the cult of fitness, the manufacture of outdoor wear, the tourism and film industries, environmentalism, and New Age interpretations of aboriginal architecture.
The installation illustrates some of the conditions by which we define ourselves, yes, but it also expresses our awareness of them. "When a culture starts to mature," Pechet says, "it starts to look in a more critical or sideways direction at what it's inheriting."
The scale of the oversize sweater is also a significant metaphor. "On the most obvious level, doing something gigantic is a reference to the big country that we come from and the great outdoors that we're confronted with almost daily," says Robb. Material has inherent meaning, too, especially given its manufacture from used plastic bottles: "Because it's made of recycled material...that also allows us to focus on themes of recycling."
Make that cycling and recycling. Mounted within the big sweater, as part of the installation, will be three stationary bicycles, each electronically connected to a digital-film projection, so that visitors pedalling, forward or backward, will control the direction and speed of loops that relate to Vancouver's physical setting and the ways in which our built environment confronts the surrounding natural environment.
The work addresses both sustainability and multifunctionality in an age of increasingly crowded urban centres and ever-smaller living spaces. "We're using SweaterLodge as a way for our studio to start thinking about how an object can have more than one use," says Pechet. "Everything we're sending to Venice, we're reusing there in another way." The duffel bags in which the component parts are shipped will be repurposed as furniture, and the bicycle crates may function as didactic panels and a reception desk. "When it SweaterLodge comes back to Canada, we want to have a big event where it's made into tuques and scarves," he continues. "We don't want to pack it away and have it sit in a box or, worse, go to a landfill," Robb adds.
The nature of SweaterLodge reflects Pechet and Robb's interdisciplinary practice. Both studied fine arts before turning to architecture. "We feel uncomfortable about the distinctions that are made between architecture, landscape, and art," Robb says. "We really overlap all of them."
"We felt right from the beginning that we wanted to do something that would be an experience as opposed to a representation of past work," says Robb. Pechet adds, "We had a hunch a big polar-fleece environment would be a beautiful and fun place to be inside of." They tested that hunch by creating an enormous prototype sleeve and exhibiting it in another design show. "The polar fleece glowed in a really lovely way and turned everybody a lovely tangerine colour," Pechet says, glowing himself.
- Robin Laurence in the Georgia Strait (https://www.straight.com/article/sweaterlodge-overlaps-natural-boundaries)